←
→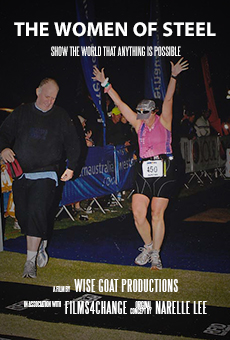 The Women Of Steel

Official" Teaser ‐ https://vimeo.com/179145186
Make a 100% tax deductible donation now by clicking here
An inspirational new documentary series called The Women of Steel, co-produced with Films4Change.
Synopsis
The world's most unlikely athletes: couch potatoes, the morbidly obese, mentally ill, domestic violence victims, "too busy" Mums with disabled children. One thing in common: they can't run, bike or swim. So why the hell are they taking on one of the world's toughest challenges? We're not sure either but we're going to find out. Welcome to the Women of Steel.
Target audience
This is a doco for everyone who loved watching Oprah at the Golden Globes. It's for every woman and every remaining gentleman. Female skewed but of interest to everyone with a heartbeat.
A Focus on Diversity
The Women of Steel are different – culturally, financially and where they live in Sydney. They have all experienced heartbreak and challenges that most of us may only hear about on A Current Affair. Their issues are untold due to plain embarrassment and stigma. But these women are ready to stop hiding – they want to tell their stories – about being 100kg heavier, a victim of domestic violence, being a self-confessed mental nut-job, having (more than one) addiction and having a child with a disability.
Ours is truly a message of tolerance and inclusion.
Creator/Business Development Manager
Narelle Lee (The Performance Masters)
Producer
Tsu Shan Chambers (International Film and Multiple Business Award Winner)
Executive Producer
Alison Black (Changing Minds ABC)
Director
Jerry Retford (Family Wellbeing)
Writer/Creative Director
Melinda Arnold (Something about Bindis)
Editor
Lindi Harrison (Sherpa, Embrace)
Composer
Yunyu Ong (Drover's Boy)
Art Director
Inneke Smit (Indigo Lake)
DOP
Sylvi Soe (Philip Hojgard-Olsen Documentary)